Gallery of Business Cards with a Marketing Focus
When trying to brand your business, or even yourself, you need to create a visual identity, and that begins with your business card. Even if most of your business happens online through an effective, impactful website, you need to be able to offer the same sort of strong impression with people you meet in person.
Business cards should be an effective marketing tool, not just a piece of paper that offers contact information. They should be unique and memorable and suited to what you do, like the cards in this business card gallery are.
Source: http://adsoftheworld.com/media/dm/base_one_group_believe_ice_breaker_business_cards?size=original
If a letter or your initials are a big part of your brand, consider making it be 3D on your business card. More exciting that flat business card printing, the letters can popup to reveal your mission statement or something else about your company's values underneath. This is a great way to break the ice and let whoever you give your card to learn more about what you and your firm stands for.
Source:  http://artboom.info/design/creative-business-cards.html/attachment/business-card-20
A card that is a visual, 3D representation of what you do in miniature can really help to make you more memorable to anyone who receives it. For instance, you might want to copy this idea if you build or sell furniture.
Source: http://businesscards24.com/unique-business-card-sheetseat/
This is another tiny chair, again clever for folks in the furniture business. However, if you make any die cut pieces or custom parts, you could adapt this to be a small display of the kind of work that you do.
Source: http://www.zimbio.com/Creative+Branding+Ideas+for+Businesses/articles/hZHRTSsh9kw/Chocolatey+Business+Card+Draftcb+Ulk
What a crafty idea for marketing a candy company or any business that sells or does something sweet! Printing your contact information or putting a special offer on the inside of a candy wrapper. Not only will people know who you are, but they can get a taste of what you offer. These would be great for a tradeshow or expo, in lieu of business cards.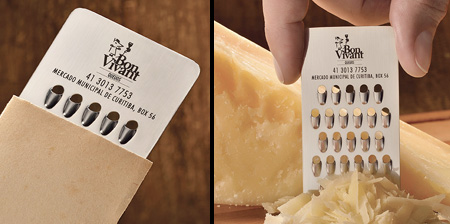 Source: http://www.toxel.com/tech/2013/05/19/cheese-grater-business-card/
This functional business card gets the point across. If you make or sell cheese, this useful business card can keep you on the minds of those you are trying to do business with. They could even use it on the spot to sample your product!
Source: http://www.limitlessmagazine.com/wp-content/uploads/2012/05/Dentist-Business-Card.jpg
This business card tucked away in a custom cut sleeve is a very smart idea for a dentist. Even the cavity on the business card goes away when you are around. This is a fun way to show potential patients how effective you are.
Source:  http://www.flickr.com/photos/cretivecards/4713789944/sizes/l/
If you do anything in the entertainment industry, these are a great way to market yourself. It will only take a glance for those you meet to get a great idea of what you do.
Source: http://www.boredpanda.com/unusual-and-interactive-business-cards/?image_id=unusual-business-cards-bloomin-designer-1.jpg
While the example is for "Another Bloomin' Designer," anyone who does anything with plants could market their business with this sort of seed packet card. Another good idea for anyone who works with plants: do business card printing on plantable seed paper.
Source: http://www.behance.net/gallery/My-own-business-card/866537
A great card for personal branding, you can put your signature moustache, beard, hat, glasses, or all of the above on a clear card that allows the recipients to play "dress up" with something with your name on it. Of course, these could also be swell for marketing your barber business or sunglass sales company.
Source: http://inspirationmind.com/creative-business-card-designs-beyond-your-imagination/multi-purpose/
What a clever and useful card for a bike shop! This is a fantastic marketing tool because each time someone uses this useful card to fix their bike, your brand is in front of them. Also, because you gave them a useful free tool, they are more likely to come to you for paid services in the future.
This gallery of business cards is only a sampling of how you could creatively market your business and build your brand. What are the most unique business cards you've seen?
Julie Ewald is an avid traveler, fitness fan, tech junkie, cat mom, and entrepreneur based in Las Vegas, NV.  Julie's work can be found on several blogs related to business and finance.